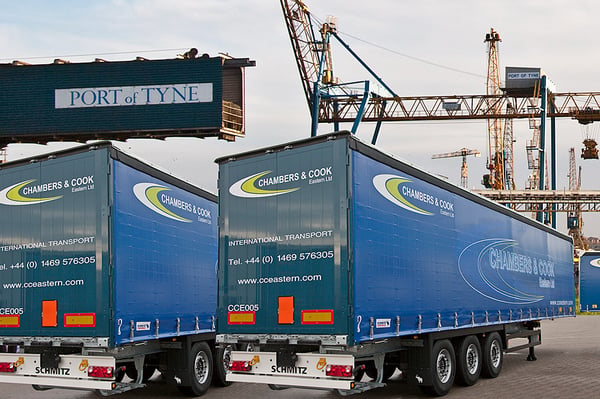 According to the latest statistics from gov.uk, both domestic and international freight activity has seen some decline over the last year or so. But at Chambers & Cook we're bucking the trend, with our latest growth figures being over 20% higher than those in 2017/18.
Onwards & Upwards
While many major players in the UK haulage industry have been experiencing a bumpy ride over the last year or two, our steady growth has been gathering pace thanks to our reputation for reliability and our major investment programme.
Our continuous investment in the company will exceed a whopping £750,000 this year alone.
With increased business from both new and extended contracts, we've recently grown our team by employing five new office staff and have taken on new drivers to cope with our increasing workload. We've also invested in new HGVs to meet the demands for our haulage and freight services.
Investing in the Future
With road freight transporting 98% of all the UK's machinery, consumer products and food, road haulage is critical to the hundreds of thousands of businesses up and down the country that rely on HGV transportation for the delivery of their goods. And as the haulage and logistics industry employs over 2.5 million people in the UK, keeping this sector strong helps our future economy stay strong, too.
The road haulage industry has encountered many threats over recent years, from the threat of driverless HGVs to Brexit uncertainty. But as our growth figures show, a clear strategy, a strong reputation and a solid programme for continuous investment keeps us moving forward. And we've been on the move for quite some time.
Driving Business Since 1925
Next year will be our 95th year in business and we'll be celebrating almost a century of being a successful, family-owned haulage company (a company operating since the time of the Charleston and the fame of Charlie Chaplin!) Today, we're proud to be one of the West Midlands' largest import and export companies.
Our continuous investment in the company and the relationships we develop with our customers are at the heart of everything we do at Chambers & Cook — and these are no doubt the driving force behind our continued growth. Our honest approach, personal touch and industry expertise has helped us to develop solid, long-term relationships with all our customers over the years.
From UK distribution vehicles and European transport services to worldwide freight and next day Palletforce services, our industry experience can rarely be matched.
If you're looking to partner with an experienced UK freight company who will keep your business moving, call one of our friendly team today, on 0121 356 1441 or email us at info@ccfreight.com. Why not let Chambers & Cook become part of your amazing journey?
We are investing. We are growing. We are Chambers & Cook.