At Chambers & Cook Freight, we pride ourselves on going the extra mile for our customers, saying yes to shipments that other logistics companies would deem impossible.
One such job was presented to us recently by inflatable dam specialist Dyrhoff, in the form of an inflatable rubber sheet that needed to be transported from the Czech Republic to Ontario in Canada. Weighing in at 10,000kg and with a length of 13.3m, this shipment was technically out of gauge, and therefore unable to be transported by standard means.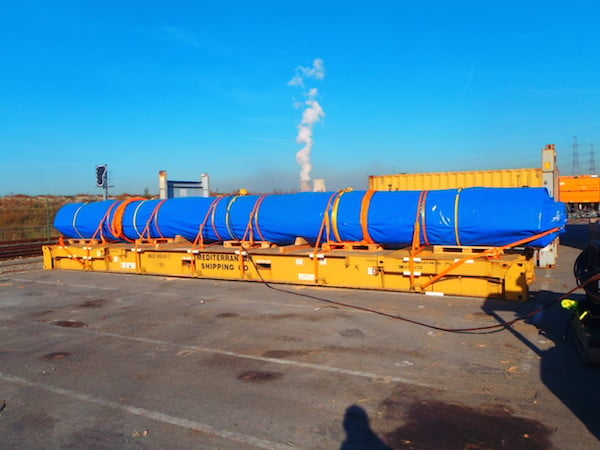 We quickly devised a plan for transportation of the rubber sheet, working with Dyrhoff to ensure the shipment would be as smooth as possible. Our plan entailed the consignment being collected from the supplier in the Czech Republic, and shipped on flat rack container via MSC from Antwerp Quay to the Port of Montreal. Once the shipment had cleared customs, the sheet would be unloaded and delivered on a flat-bed vehicle to its final destination in Smooth Rock Falls.
Time was of the essence – the client required delivery ASAP, meaning that we had to come up with a solution quickly. We contacted our network of usual hauliers, but none were available to pick up the consignment from the Czech Republic due to restrictions on driving hours because of public holidays taking place at the time. This meant that trailer availability was unusually limited, but we were confident we could still find a resolution.
The supplier in the Czech Republic eventually managed to find a local haulier who was able to transport the consignment to Antwerp. There, Chambers & Cook Freight arranged for the inflatable rubber sheet to be unloaded, lashed, sheeted, and secured to a flat rack container, before being despatched to Montreal.
We were pleased to be able to come through for Dyrhoff on this occasion, successfully transporting an out of gauge consignment via special equipment at extremely short notice. We're confident that we managed to ship this rubber sheet on the earliest available vessel, keeping both our client and their customer happy.
We worked closely with Dyrhoff on this project, as we have done several times already this year, shipping consignments originating in the UK, Europe and China. We'd like this opportunity to thank Dyrhoff for their continued support, and look forward to working with them in future.
If you have an unusual or out of gauge shipment, we're confident that Chambers & Cook are capable of facilitating its movement. Please get in touch with a member of our team by calling +44 (0)121 356 1441.