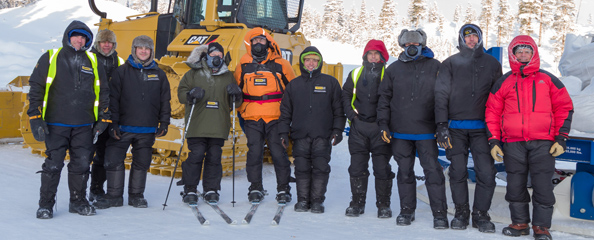 Sir Ranulph Fiennes is leading a team of explorers to conquer the last great polar challenge: crossing Antarctica in winter. Their remarkable attempt aims to raise $10m for Seeing is Believing with match-funding from Standard Chartered, provide crucial scientific data and form the basis of an invaluable education programme. www.thecoldestjourney.org
One of Chambers & Cook's core customers, Finning/CAT are one of the sponsors of the expedition; indeed two engineers from Finning UK and Canada, will be joining the expedition to operate and maintain two bespoke engineered D6N Caterpillar track type tractors, tasked with towing special accommodation and science cabooses for the expedition.
Chambers & Cook are delivering a truck load of spare parts from Finning to the dockside in London, for the expedition which departs on 6th December to the Ross Ice Shelf in Antartica. Caterpillar D6N's have been re-designed and retrofitted by a team of Finning specialists to cope with world's coldest temperatures.
Chambers & Cook would like to take this opportunity to wish all the participants the very best of luck on their adventure, and a safe return for all.