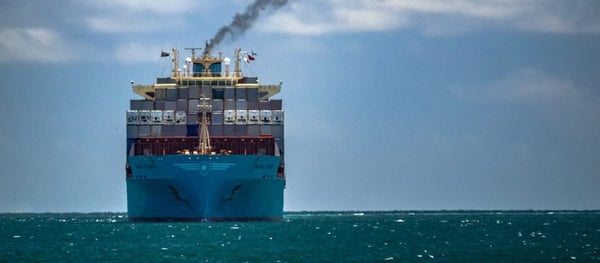 Ocean freight is already one of the more ecologically friendly, global shipping options for your goods. But thanks to new environmental regulations, which come into force from 1st January 2020, sea freight is set to become much more sustainable.
The 2020 Sulphur Cap Change

The International Maritime Organisation (IMO) is introducing a landmark regulation to reduce the amount of sulphur used in the fuel oil of sea vessels, helping to tackle environmental issues by cutting sulphur emissions caused by ships by a staggering 77%.
From the beginning of next year, the amount of sulphur content allowed in any ship's fuel will be capped at 0.50% m/m (mass/mass). This cap will apply to all 'fuel oil used on board', so includes the fuel used to power the main engines, the auxiliary engines and the boilers. The current global limit, which became effective on 1st January 2012, is 3.5% m/m. So, the new 2020 regulation will see a significant reduction in sulphur emissions from ships.
Why is the New Regulation Needed?
Sulphur dioxide (SO2) is one of the major culprits responsible for the pollution of our air; this harmful gas can pose a severe threat to plant, animal and human health. Having high concentrations of sulphur dioxide in our environment can cause acid rain, eutrophication and respiratory issues. So, making sure we keep the amount of SO2 in our air as low as possible must be a major focus for us all.
Sustainable Shipping
To comply with the new sulphur cap set by the regulatory authority for international shipping, ocean freight, travel companies, and indeed any ship operator, will have to make the switch to a low-sulphur, compliant fuel oil from January. Although a more expensive fuel option to run sea vessels, the low sulphur fuel oil will keep companies compliant and be a huge benefit to global air quality. Operators can also fuel their ships by alternative fuels, such as methanol and gas, as these options produce extremely low sulphur emissions.
Ship operators can also choose to fit an approved exhaust cleaning system, known as scrubbers, as an alternative to using low sulphur fuel. The exhaust cleaning system will 'clean' the ship's fuel emissions before being released into the atmosphere.
Sailing in the Right Direction
Limiting the sulphur dioxide generated by all sea vessels can only be a good thing for our planet and our health. This landmark environmental regulation will help to safeguard our future and will benefit us all, but it will be a particularly positive change for those people living in coastal areas.
At Chambers and Cook, we think the new sulphur cap change is excellent news, and we are proud that the global shipping industry is going greener. We're looking forward to the future of ocean freight and a future that sees an already sustainable shipping option further reduce its environmental impact.
Our ocean freight services are ready for the 2020 sulphur fuel cap change and will give you a cost-effective way to send your shipment. Whatever your shipping needs, we have regular LCL containers moving to and from most ports worldwide. So, if you're looking to partner with a trusted UK ocean freight company who will keep your business sailing in the right direction, call one of our friendly team today, on 0121 356 1441 or email us at info@ccfreight.com.
We are ready. We are responsible. We are Chambers & Cook.