If you like to spend your evenings in front of the telly, chances are you might have seen the trailer for Mutiny, an exciting documentary that premiers this week on Channel 4. The show follows a crew of nine as they attempt to re-enact the famous Mutiny on the Bounty, when Captain of HMS Bounty Lieutenant William Bligh and 18 of his loyal shipmates were given the heave-ho after the rest of the crew rebelled in 1789. They were cast adrift on the Pacific Ocean in a 23-foot long open vessel that gave but a fraction of the protection of the far larger HMS Bounty, and faced an arduous 4000-mile journey from Tonga to Timor.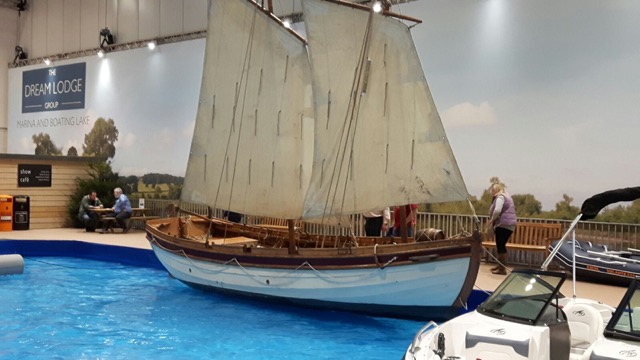 Just like the original Bounty crew, the group of nine survivalists participating in the re-enactment initially began their adventure in the UK. However, they did not have the advantage of a purpose-built ship to get them to their initial starting point 35 miles south of the island of Tofua. Documentary makers Windfall Films approached several logistics companies to find out how Bounty's End, the replica 23-foot long boat that had been constructed for the documentary, could best be transported from Richmond in Surrey to Tonga – a distance of over 10,000 miles.
Chambers & Cook Freight visited Windfall Films at their base in Shoreditch to have an initial conversation, then travelled to the master boat builder in Richmond to discuss the exact specifications of the boat and trailer that would need to be transported. Chambers & Cook's Forwarding Manager said' Our competitive pricing and experience in shipping large and unusual items convinced the filmmakers that Chambers & Cook were more than up to the challenge of getting the long ship to its starting point in Tonga.
Our original plan was to transport Bounty's End by Oceanfreight over Singapore, but time did not work in our favour – construction on the boat wasn't completed until mid-June 2016, which didn't leave us enough time to ship via ocean. This meant we had to send the boat and its trailer via freighter aircraft into Auckland using Singapore Airlines, which meant the boat also had to be fully fumigated by Rentokil in order to comply with New Zealand's stringent wood import regulations.
Once Bounty's End arrived in New Zealand, we arranged for a local logistics company to load it into a 40ft container and ship this to Nuku'alofa in Tonga, where we organised the 'de-stuffing' of the container and local transport to the starting point of the voyage.'
The crew of the replica long ship then sailed 4000 miles across stormy seas – a very difficult journey that will be told in detail in the Mutiny documentary.
When the team were safely back on dry land, Chambers & Cook once again kicked into gear to arrange transport back to the UK in time for the 2017 Boat Show. A support vessel was used to get Bounty's End to Christchurch, at which point we again teamed up with Pacific Forum Line to organise the loading of the boat and trailer onto a 40ft flat rack container for shipping back to Southampton. We managed the devanning of the boat once it reached the UK shores, and ensured it was delivered to the Excel Arena to be shown to the public at the Boat Show.
Chambers & Cook were delighted to be chosen as Mutiny's logistics partner, and we're really pleased with the way our team smoothly handled this relatively challenging task. We weathered stormy seas and uncertainties to ensure this unique cargo got where it needed to be in good time, proving once again that Chambers & Cook Freight can be relied upon to transport almost anything!
Mutiny is on at 9pm on Monday 6th and Tuesday 7th of March on Channel 4, and will be available on All 4 after its initial broadcast.