Simon Forest named Walking Football England Parkinsons Under 55's Captain
Our Company Secretary and Financial Controller, Simon Forest has been named Walking Football England Parkinsons Under 55s captain just months after taking up the sport.
Simon Forrest was diagnosed with Parkinson's last March, having been symptomatic for 27 months.
The 54-year-old, also diagnosed with lymphoma in 2004, said: "I have a strong Christian faith, which has stood me in good stead for the ongoing battles with my health and for which I am totally blessed.
Five months ago Simon and a friend tried walking football at a Birmingham Football Centre open day in Solihull.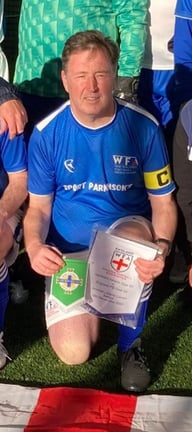 "I was a decent footballer in my younger years and particularly enjoyed the walking football, I have a whole new group of friends and my wellbeing has improved hugely.
The camaraderie, kindness and support I witness each week is worth more than all the pills I take."
"I'm over the moon to be playing for England and to be named as captain, the best thing about it is I can help raise awareness of the benefits exercise has for people with Parkinson's."
"This is a horrible condition but there are positives to be taken from this. I am thankful for my company's ongoing support"
He is urging everyone to be as active as they can be, take advantage of behind the scenes work to 'kick Parkinson's into touch, while enjoying fun times with people who will become 'cherished new friends'.
Last weekend Simon travelled to Belfast to represent England where they finished 3rd and have further tournaments planned in 2023 in Europe and beyond.