For over 30 years Chambers & Cook Freight Ltd have been providing logistics services to ESCO, a leading independent global developer and manufacturer of highly engineered wear and replacement products used in resource mining, infrastructure, oil and gas, power generation and aerospace industries.
Happy Birthday ESCO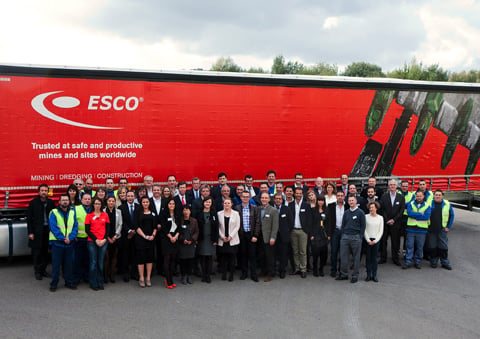 As part of their ongoing contract, Chambers & Cook Freight provide trailers in Esco's corporate livery.
To celebrate the 50th Anniversary of Esco in Europe, Chambers & Cook supplied ESCO with a brand new trailer which was delivered by John Macateer; John has been driving for Chambers & Cook Freight Ltd for the past 42 years, and was extremely pleased to be given the task of delivering this commemorative trailer to the Esco people in Frameries where he has been delivering for the past three decades. John has this to say;
"To Everyone at Esco,
I hope you all had a wonderful day celebrating your 50th Anniversary.
I have always had a lot of respect for the employees, who always made me feel very welcome.
I would like to "Thank you" all for the hospitality and presents given to me, of which was a great pleasure to be part of your 50th Anniversary celebration.
I would like to wish you all luck for the all future years.
Kind Regards
John"