Brexit: Deal or No Deal? - Chambers and Cook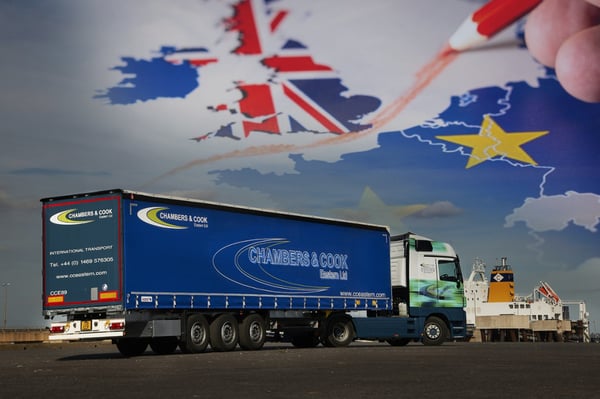 Brexit: Deal or No Deal? Now, that really is the question.
And much like Noel's sealed red boxes, we can't know exactly what Brexit will bring until the final box is opened on the 29th March.
But whatever sits inside the Brexit box — we are prepared.
Don't panic
We understand the uncertainty and concern the run-up to Brexit is causing. But know we are doing the only responsible thing we can and fully preparing for a no-deal scenario. So in the event the UK leaves the EU without a trade agreement and with no transition period, we can give you maximum support to make sure any disruption to your business is minimised.
If a deal is negotiated and we leave the EU with a trade agreement in place at the end of the month, great. But if we don't — we are ready.
Trade between the UK & EU?
A few key things you can do now in preparation for a no-deal EU exit:
You'll need an EORI (Economic Operator Registration & Identification) number, so you can continue to trade. If you haven't already got this, register today.
You'll need a commodity code to classify your goods. This will make sure you pay the right amount of duty and will let you know if you need an import or export licence. Find your code here.
Find out if you're eligible to use facilitations, such as TSP (Transitional Simplified Procedures). Following a no-deal outcome, customs simplifications and special procedures aim to make importing from the EU easier than it's otherwise likely to be. This process will require prior authorisation from HMRC — registration for this is open now.
Find out more about how you can prepare with HMRC's partnership pack: preparing for changes at the UK border after a no deal EU exit.
Keeping you on the move
We always give our customers the highest level of service and support at every stage of every journey — and the journey into the unknown territory of Brexit is no exception.
We have plans in place and are prepared for a no-deal exit. So no matter what the outcome of Brexit, we can continue to provide you with the best options, advice and support to keep your goods on the move.
Need help, advice or have a question?
From establishing your commodity codes and INCOTERNS to knowing what documentation you'll need and applying for your EORI number, we can help to navigate you through the potential no-deal process.
For more information, please contact our friendly team.
Email: info@ccfreight.com
Call: 0121 356 1441
We are prepared. We are ready. We are Chambers & Cook.